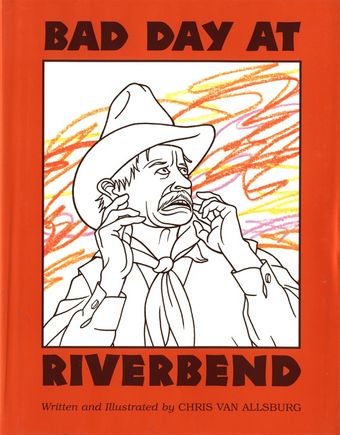 Master artist and storyteller Chris Van Allsburg presents a surrealistic journey into the imagination.
This provocative story within a story leads readers to ponder the realities of fictional worlds and the lives of the characters who populate them.
Riverbend was a quiet little town, the kind of place where one day was just like all the rest and nothing ever happened. Occasionally the stagecoach rolled through, but it never stopped, because no one ever came to Riverbend and no one ever left.
The day the stagecoach stood motionless in the center of town, Sheriff Ned Hardy knew something was terribly wrong. What was the mysterious substance on both coach and horses? It would not come off. Soon it was everywhere in the tidy little village. Something had to be done, and Sheriff Hardy aimed to do it.
From two-time Caldecott winner Chris Van Allsburg, creator of Jumanji and The Polar Express.
Read more